So this picture really captures the essence of our trip.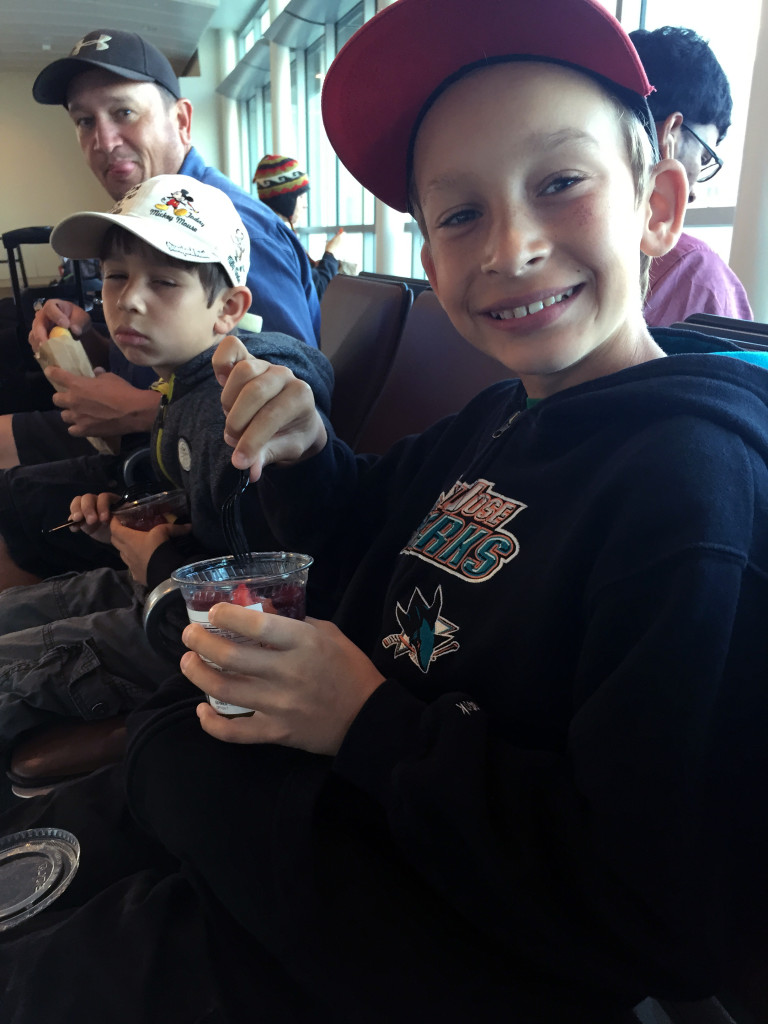 Day 1
We got into the airport about 10 (yay 2 hour flight!) and drove straight to Vancouver to check out a builder that Jim researched and looked at some of the houses they are building. They were all very cookie cutter on small lots but were pretty well done. I'm not in love with the house plans though (more to come on the dream house later). After, we decided to try and find some of the properties we liked up in Ridgefield and La Center since we wouldn't have time to look in that area with the realtor. It was a nice area but we couldn't go onto the properties themselves to check it out. We DID drive by a few llamas and a lone camel o.O. I kid you not. I was so stunned I didn't even take a picture. We did drive back that same way to make sure we weren't seeing things.
The boys were troopers and enjoyed the pool at the hotel at the end of a long day.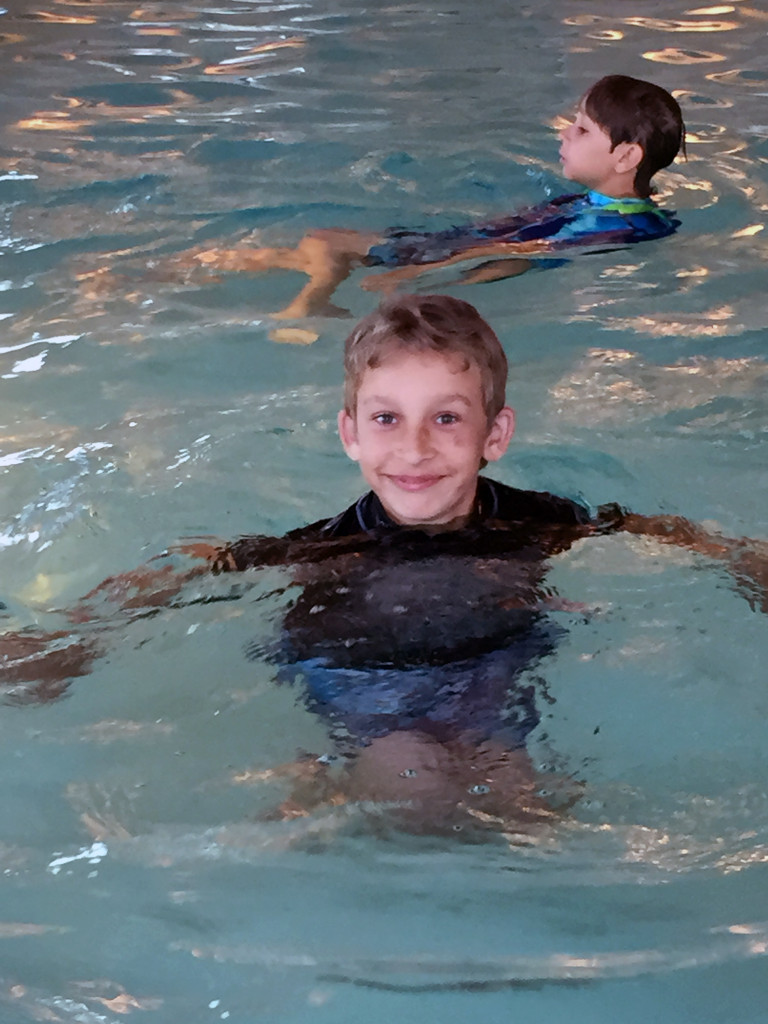 Day 2
Our Oregon realtor, Amanda (so freaking nice and if you're looking at property in Oregon, you can totally find her here), picked us up at our hotel around 10 to drive us to all the various land we picked out to see. She was totally prepared for the boys but we bought bribery (aka ipads) to get through the day of driving. First stop was St. Helens just North of where my awesome mommy friend Kim lives. It was actually much longer of a hike than I expected. It might have been the speed (or lack of) that Orgonians tend to drive (not a bad thing, just an observation!) or the fact that there was a big parade in downtown Portland. The weather was also GORGEOUS and probably brought out the masses. See? We couldn't have picked a better weekend.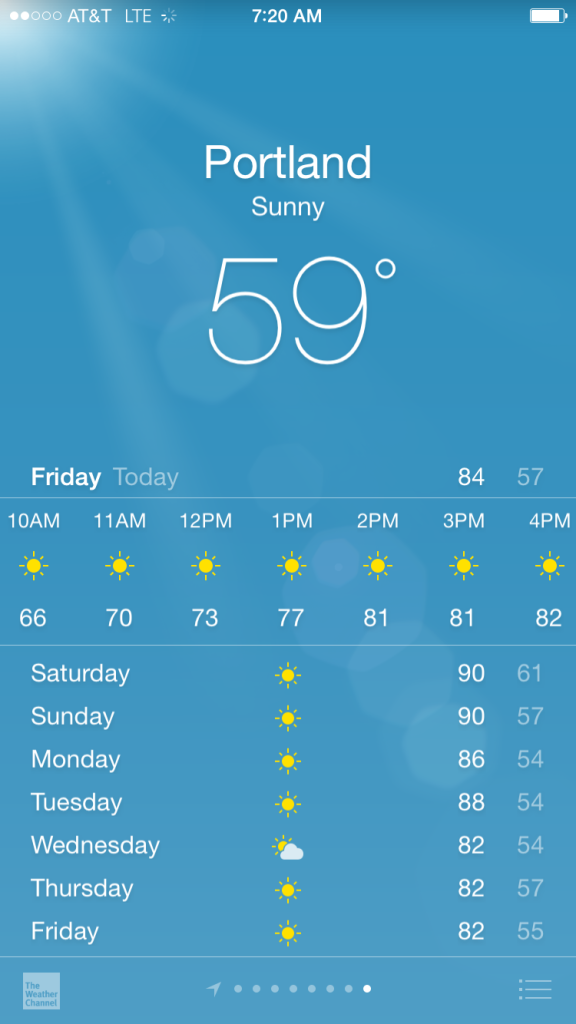 Anyways, the property in St. Helens was rather underwhelming. The "building site" outlined by the seller was not much of a site. If you can see all of the tress in the background of this photo, that's where the site was. No bueno. So we chalked this one up as a loss but learned that any listing that said "sloped" probably wasn't the best of ideas.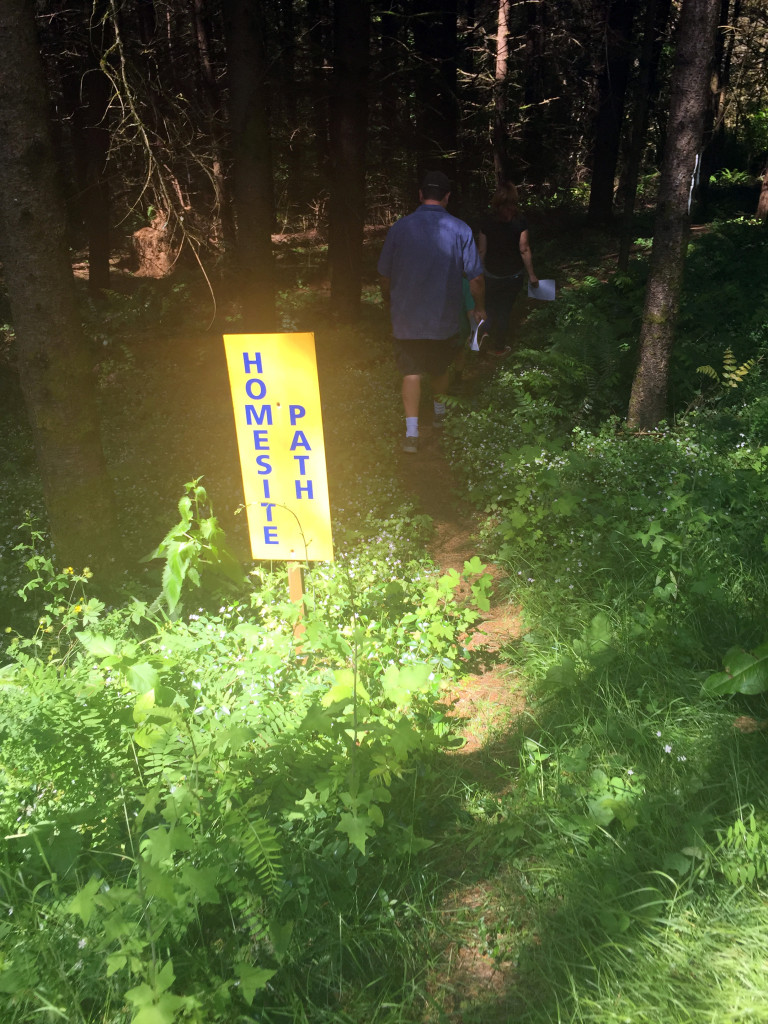 So the next town South that we were seeing land was Scapoose. We pronounced it all Italian in our heads like Ska-Poo-See and apparently it's Ska-Poos. Kind of burst my bubble. Anywho, we had two properties to find and ultimately only found one. One of the biggest problems with finding raw land is actually finding it. Most aren't located on the maps yet as they don't actually have an address TO map. Oh and if you're relying on your cell phone for GPS to actually find these places, probably not the best idea. Most places we had zero cell coverage which made for problems when wanting to post pictures on social media. So the Scapoose property that we DID find had much more potential than the first. The building area was definitely big enough for a house and it actually sat on 20 acres of timber that could be explored, cut down for profit, etc.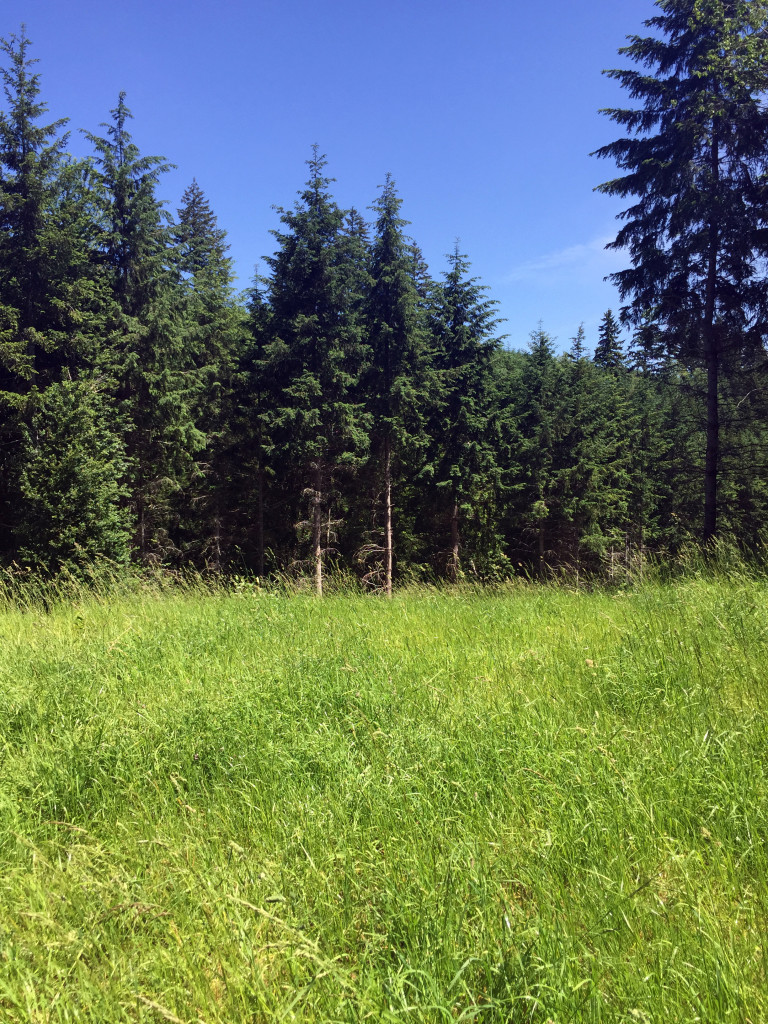 The biggest draw back was just how far away it was. It only took us 15 minutes to get back to the main town but that was still a really long hike from Portland and where both of us would probably have to work eventually. But we kept it on our mind as a potential.
Next stop was Hillsboro which is where Intel and Nike are located. It was apparent when we got there just how many people lived there…not really what we were looking for. Again, the lot wasn't impressive and the house would have to be built way to close to the neighbor's. And, because of the location, the smaller lot was more than we wanted to spend. So we crossed that one off the list and moved on. The last property we saw was in Oregon City which was on the other side of Portland. So, again, quite a drive to get there but probably the closest to Portland. Once we found it, we tried driving up the unpaved drive and gave up when it started getting way too steep. We walked the rest and I totally got my workout. The view was gorgeous, but the amount of work involved just to make a usable road to get up to the property was a big drawback. And, again, the building area wasn't huge. We DID like Oregon City though as it's one of the oldest cities in Oregon with a lot of history. Definitely an area to keep an eye on.
So at the end of the day, we weren't super excited about anything we saw. But I was really appreciative that Amanda took the time with us to show us around and see what was out there. It most certainly helped open our eyes and prepare us for Day 3.
Day 3
We focused the final day's search on two areas, just to the East of Vancouver, WA: Camas and Washougal. From our research, we found out that Camas has top-rated schools and has really great river views up on the hills with million dollar homes. They're definitely building things up East of Vancouver with Camas being the first stop. Washougal is much less developed but right next door with plenty of growth potential. And land is much more affordable. We met our Washington realtor, Joe, at his office in Camas, Washington. Apparently I neglected to warn him that we were bringing our boys with – he looked a little out of sorts with that surprise. But we maintained our bribery (aka ipad) tactic in the hopes that they'd behave. We also knew there would be less driving and more properties to look at.
Our first stop was to a 5 acre property in Camas that's been on the market for quite a while. Once we got there, we realized why. There's a huge pond on most of the property which makes the building site much smaller. And we found out that we can't do anything to or around the pond which would make the area difficult. It was really pretty though and still better than anything we found in Oregon.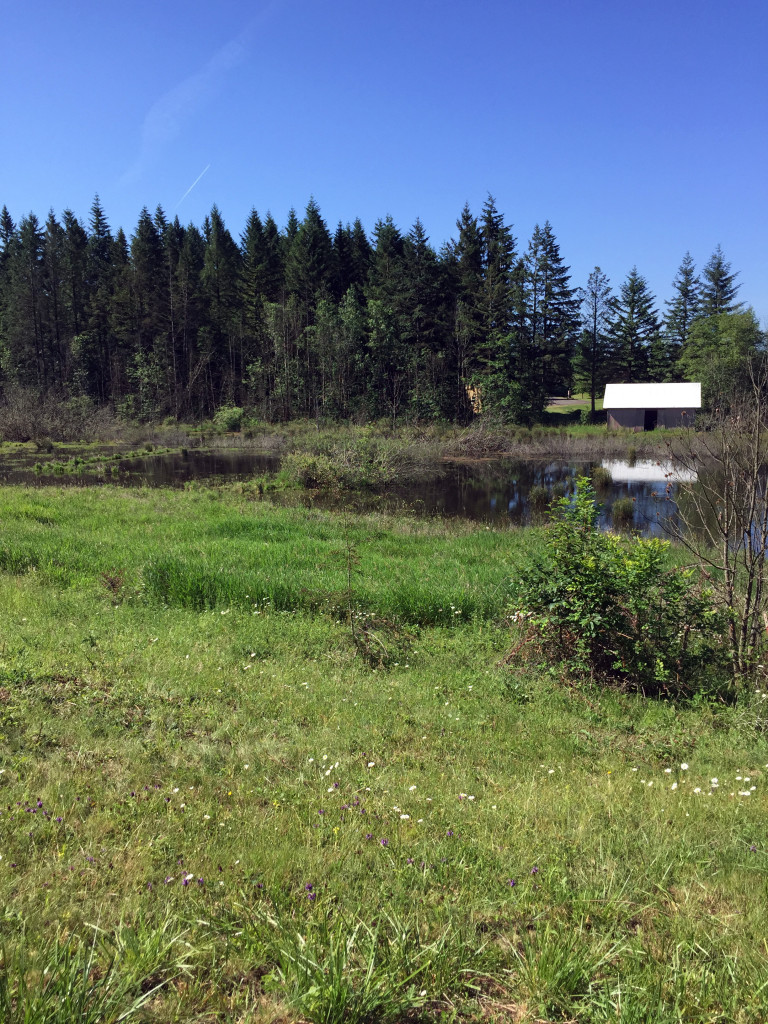 When we left, the realtor said, "I think we can do better"…
Next stop was to our first property in Washougal. It was in a super pretty neighborhood with green lawns and huge houses with nicely paved roads. The property was up a dirt road off of what appeared to be someone's driveway. The road had been cleared at one point and was easy to walk to the clearing that was done for a property. At one point house plans had been drawn up and septic (ie: perc) tests had been done. Off to the right of the property were lots of trails which look to have been made by ATVs and eventually there was a creek somewhere in there. It sloped down a bit but the building area had potential. This property will henceforth be named "ATV."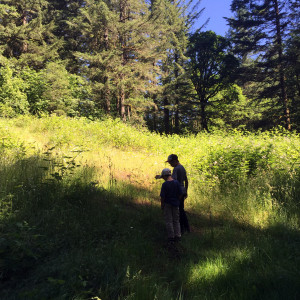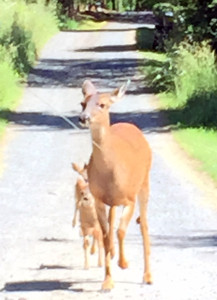 We attempted to find the property on the other side of the creek but ending up finding a cute family of deer instead. Totally worth it. I can't believe it took us three days to see deer.
After ATV, we drove past a sale pending property in Camas "just in case" and then also went to another property that had a barn on it. It was tempting since it already had power, well, and spetic but not quite what we were looking for.Then we went to three properties a bit more East near these "motorbike tracks." Apparently Washougal is known for its motocross park. There's a week long event every July that you can buy tickets for. Of the three properties in this area, we loved one that was probably closest to the track. We could actually hear the bike engines from the building site. Aside from that, the lot was located right on a court and there was a beautiful dirt road that led up to the building site. It was really pretty and, with a few trees cleared out, would probably show some nice views. Jim instantly starting sneezing there though. So we're calling it "Sneezytown" and despite the motocross noise and sneezing, was still a viable property.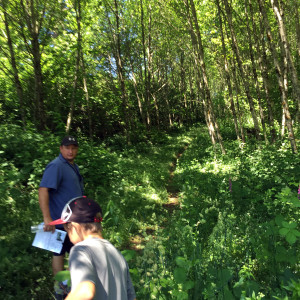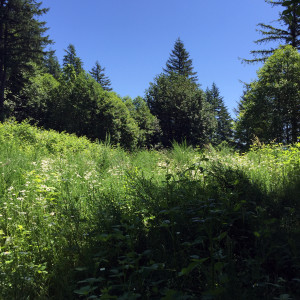 The last two properties were a bit of a mystery and took some finding work. They were also the next county over – still in Washougal but a bit further from town. One of the properties was on pretty level terrain…it wasn't very accessible to walk around though so we pretty much stayed in the car and drove around it. Then we found the last one after lots of turning around, conflicting GPS/maps, and a very patient realtor (I think we won him over by then). The view was spectacular. And we had 4 bars on our phones! I think that's when all my pics from the day finally posted all at once.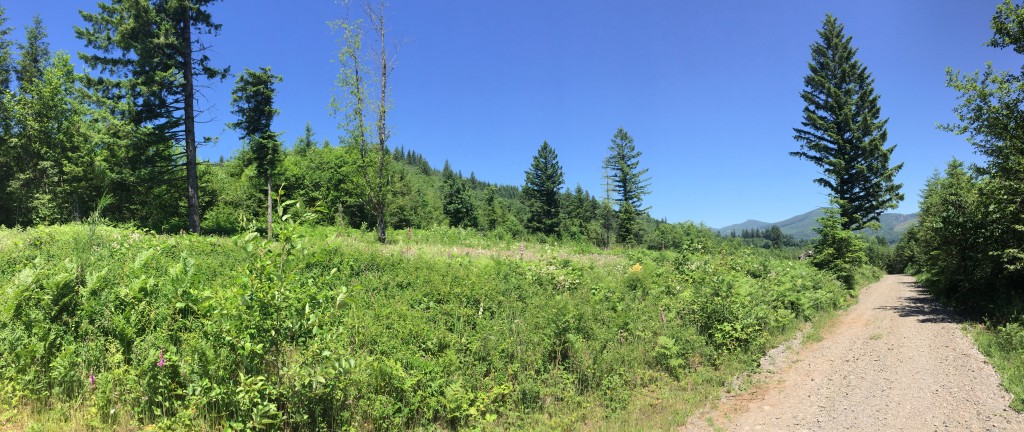 This last property was quite a bit more north east than the others, but definitely gave us something to think about with those views. It was about a half hour back to his Camas office so definitely more of a hike than we were wanting.
By the end of the day, I think I can say that we fell in love with Washington. Now it was just a matter of deciding WHICH properties to look into more. We packed up that night to get ready for our trip home the next day flooded by the possibilities.
Then at the airport, our realtor emailed us another listing…