Information Overload
What to do…what to do…as we were leaving Oregon (literally at the airport), our realtor emailed us a property that just went back on the market. Apparently it had a pending offer that had just fallen through due to financing issues. It was a 5 acre lot with a very old mobile home on it, already had a well, septic, electricity and high-speed internet. It was just around the corner from the ATV lot that we had seen. Not able to do much research on our phones, we decided to regroup once we got home. It definitely added one more option to the already long list.
Land Loans
There are so many things to consider when buying vacant land. One of the things that I just didn't know was just how hard it is to get a loan. You can't just walk up to the local Wells Fargo and ask for a land loan. They just don't do that. Many banks won't fund land because the investment is so risky – there's no house to sell making any foreclosure very difficult to offload. So there aren't many banks to choose from and the loans aren't that great. The best deal I could find was a 3/1 arm at 5.25% and (the killer) 25% down. Plus closing costs. If the land isn't serviceable (meaning there is no power at the property), the down payment goes up to 35%. Perspective: when we refinanced our house for a 30-year fixed, we locked in at 3.75% with absolutely no closing costs. They even gave us free cookware. Sigh.
The biggest items to check off our list to ensure that the land can be financed:
The land is serviceable with power to the property.
The land is zoned residential.
The land needs to be vacant with no buildings on it – if there is a mobile home on the property, that changes the type of loan. The mobile home also has to meet certain requirements to be financed as a mobile home property and each lender has their own list of criteria.
Perc test might not be required but would definitely be a plus. It's a soil test to make sure that the property can have an area for septic to be installed.
One lender I talked with said that in order to finance, the property already needed to have a well installed.
More Lists
In addition to financing, there are many other things to consider when making this decision:
Shared well or well already installed and the flow rate of the water. The cost of installing a well depends on how deep the well needs to be drilled. They can range from $10,000 – $20,000+.
Septic already installed. If not, has a perc test been done? Perc tests require permits and can cost around $2,000.
Power ran to building site. We got estimates on various properties which ranged from $10,000 – $20,000 depending on how far the building site is from the road.
Any easements on the property – an easement is where a shared road runs through the property, or in some cases, you need to use a road on someone else's property to access yours. Sometimes there are yearly costs for maintaining shared roads.
Nearby schools, shopping, events, etc.
Access to the property – are the roads paved or do I need to buy a new car just to get up the drive? (some were pretty scary).
Buildable space on the property – most parcels were 5 acres but some only had like 4000 sf of buildable space.
Is the property located in a flood zone? If so, just walk away.
Location location location – we definitely want to be close enough to Portland/Vancouver for work.
And all the things we haven't thought of just yet.
So you can imagine how much work and research we needed to do on all of the properties we saw (and didn't get to see) and how much fun it was to weigh the pros and cons.
Process of Elimination
The top 3 that we finally narrowed it down to were ATV, Sneezytown, and the new just back on the market property we didn't get to see (I'm really disappointed now that I didn't come up with a cute name for this one). The first to not make the cut was Sneezytown. After a lot more research, Jim realized that the motocross noise and traffic would definitely be a detriment. He also found out that Mel Gibson – who had property in Washougal and would close down Safeway to go shopping – couldn't even do anything about the noise. On top of that, it would cost quite a bit to run power to the building site. Even though we loved the view and the fact that it was on a court, we couldn't get on board. And it made Jim sneeze. A lot.
Down to two.
I called our lender about the "just back on the market property" to see if the mobile home would be an issue for financing. She said that the lender might require it to be removed prior to closing so that the loan could just be financed as vacant land but was going to double check. I wasn't very hopeful as I talked with another lender who said the same thing. Remove prior to closing. Ugh. Then there was one.
ATV had been my favorite anyways and was in a really nice neighborhood not too far from Camas (my hope is that I can get the boys into that school district). We triple checked that there was power to the property – check. They had already done a perc test – check. There was a shared road to get to the property but no easement costs on record – ok, something to look into. Oh and this one had building plans! We found out the name of the builder and decided to give them a call. They were really up front and told us that there is only a small area that a house could be built. There's a creek that runs through the property and has protected setbacks where you can't clear the land. They also noted a lot of rock in the building area that would need to be dug out. So then there was none.
But wait!
The lender got back to me and let me know that we CAN finance the "just got back on the market property" and we can remove the mobile home after closing. What!?! So we still had a viable option but needed to do some research on the property WE HADN'T EVEN SEEN! I mean, how crazy is it to buy 5 acres of land without seeing it? Oh wait, we've already established that we're working on the crazy. Yes!!
Here are some of the photos from the listing (now you've seen what we've seen):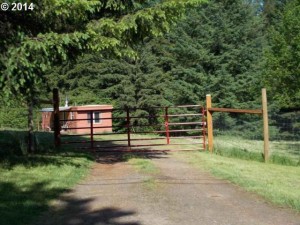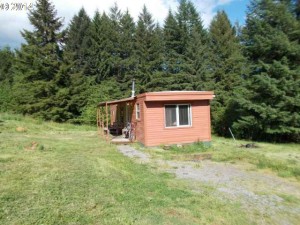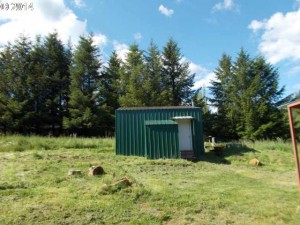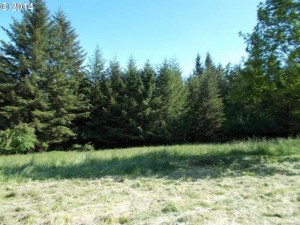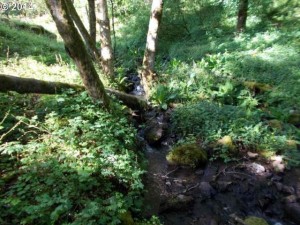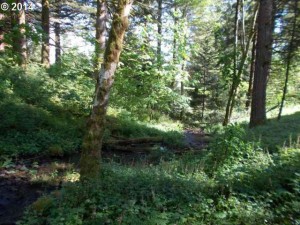 Because there had been 3 sales that had fallen through on the property already, there had already been inspections done for both the well and the septic and they looked really good. We may have to increase the septic tank size but that is something we can do in construction. Since we had lender approval and initial reports looked good, our awesome realtor went to the property the next day and took a bunch of videos for us – this was just on Wednesday – two days after we got back. They showed how much potential there was with the property and the fact that there was already well, septic, power, AND internet was too much to pass up.
That night we decided that the property checked off enough of our wish list. Let's put in an offer! We had some back and forth on the offer paperwork (damn job) and finally sent the offer Friday morning to the seller's agent. And now we wait…